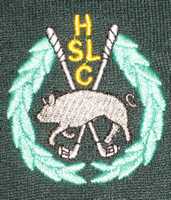 In 1960 Miss Bacon read in Golf Illustrated that Kent had formed a Society of Lady Captains; after discussing this with friends they decided to send a survey to Hampshire Clubs. From the interest shown, Miss Bacon, Miss Diamond, Lady Brickwood and Mrs Payne held a preliminary meeting and formed themselves into a committee. By the first AGM held on 12th February 1962 at the Potters Heron Hotel there were 113 members who had paid 10 shillings (50p) to join and 7s 6d (37.5p) subscription. The venue remained for the annual meeting until 1998 when it was changed to Waterlooville Golf Club to accommodate the increased number of members wishing to attend the lunch.
At the 1963 AGM it was agreed that a Captain be appointed to challenge other county past captains' associations. In 1964 it was agreed that the committee should design a badge and a silver-plated version at 11s 6d (57.5p) was purchased. By 1969 there were 228 members
After the death of Millie Diamond in 1978 two engraved salvers were obtained for a gross prize presented with a voucher. Until then all prizes were for handicap, initially for 1st to 4th and a consolation (booby prize), the prizes were later increased to 6th place. An "extra class" was introduced in 1980 for combined handicaps exceeding 50 to give long handicappers a chance of winning a prize, this in turn lead to the introduction of three divisions blue, green and red at meetings. At the 25th AGM in 1985 Miss Bacon retired as the Secretary having seen the Society grow to 359 full members. Cigarette boxes were presented in 1985 for the overall handicap winner and ash trays for runner up in 1986.
Membership continued to grow rapidly partly due to the large number of new clubs in the County and by 1990 it had reached 523.
By 2000 there were 524 full and 72 life members by the end of 2010 our membership which had dropped to 466 plus 32 life members by the end of 2010.
Our oldest member is Elenor (Sandy) Sellors who will be 101 in 2011; she was one of the original members and played in the first meeting at Liphook on 26th March 1962. Sandy was Captain of the Society between 1967 & 69 having been Lady Captain at North Hants in 1951 and 1952, she immediately became County Captain in 1953 remaining in that position through to 1957 during which time she also played for the County . It is hoped that Sandy will join us for our mid-season jubilee meeting at North Hants on 18th June 2012.
In 1986 a suggestion was made to purchase bottle green jumpers embroidered with the Society logo, after several debates it was agreed to place an initial order in October 1992. In March 1993 it was agreed to add a white polo shirt and ask that match players wear these with navy slacks or skirts.
On many occasions since 1960 the issue of having to pay green fees rather than receiving the courtesy of the course had been discussed. In 2010 Rushmore GC, Wiltshire, charged a £13.00 green fee for a match, in 2011 Blackmoor are asking for £10.00 for a match and several of the leading clubs in Hampshire have discussed charging a green fee for the Past Captains' Societies. Having faced the possibility of green fees since the inauguration of the Society these may soon become a reality!
Click the link below to see the AOHLC Constitution